Slave Mouth
7
SlaveMouth Full Siterip
41 Videos | 74.57 GB
Hard oral sex with submissive mouth whores.
Lexi Grey - My Filthy Mouth Your Sick Commands
Released: June 3, 2021
After her Valentine's Day session, Lexi came back for more oral domination and degradation. We ramped up the filth factor even more this time, with numerous rounds of her sucking anal beads out of Dr. Mercies' ass and very mean piss play that involved lots of hard face slapping. Lexi also got a rough face fucking, ate ass for eternity, snorted cum and piss out of Dr. Mercies' ass, and took cum to the eye. This might not have been one of our sweetest and nicest sessions, but Lexi's hotness here is pretty incredible.
Lexi Grey - Throatfuck Valentine
Released: February 3, 2021
Lexi Grey had been a regular visitor to the Assylum, but for some reason she had never come to the Slavemouth harem for oral therapy. Now, with Valentine's Day approaching, she and Dr. Mercies saw the perfect opportunity for some rough oral hatefucking. Cupid had passed both of them by this year, so why not make the most of the holiday together? This is a harsh session, with Dr. Mercies taking on the role of a sadistic anti-Cupid and Lexi getting struck by his evil arrows. She not only gets a very rude face fucking; she also eats out of the doctor's ass, snorts frozen cum from his ass, and gets the frozen cum slapped out of her mouth into a collection plate over and over again. Nevertheless, this is a still a playful session, and Lexi finishes with a smile.
Jessica Kay - Facefuck Dominoes
Released: April 6, 2018
The beautiful Jessica Kay is back to entertain Dr. Mercies with her mouth. This involves roughly slapping and fucking her face while playing a twisted game of dominoes. There's also some ass licking dominoes and toe licking dominoes. It all culminates in... you guessed it: cumshot dominoes. Have fun with this one, folks. We sure did.
Alexa Nova - A Whore To Beholed
Released: March 9, 2018
Today is Alexa's day to be a helpless gagging whore. It's the third day of her extended shoot at Slavemouth and Assylum, and Master Mercies wants to focus on her mouth hole. He puts her under a bright light and blindfolds her so that she can't see at all and he can see clearly. See her oral suffering, that is. As her mouth dangles open in suspense, he jams it with one object after another. She gags and spews, loses her breath, has ass shoved into her face, gets cock rammed into her, and drinks his piss--never knowing what's next. Master Mercies allows her to use a vibrator, but then yanks it away just before she comes and goes back to face fucking her. Will she get to come later? Does she deserve it?
Kira Noir - Let Me Get Your Rocks Off, Sir
Released: February 23, 2018
Kira is a very submissive, kinky girl who likes to suffer for her dominant in whatever way he chooses. Master Mercies was feeling playful, so he chose to use her mouth like a carnival ride. He gagged her with long anal beads and a huge dildo down her throat, as well as with his cock. Then as the slobber shot out of her face, he made her rock like a horse on a merry-go-round. This session also has lots of breath play via cock and lots of nasty spitting.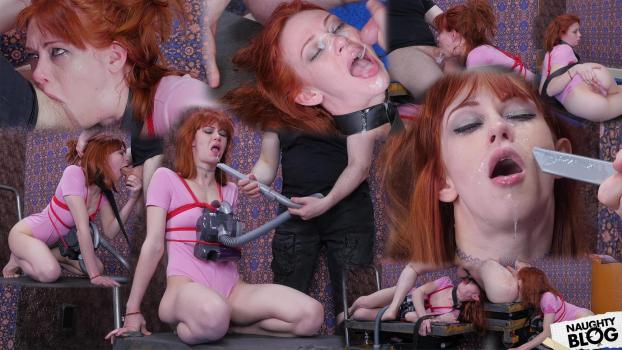 Alexa Nova - Air Is A Privilege
Released: February 9, 2018
Alexa is here for an extended stay. So Master Mercies begins her training with a basic lesson: everything is a privilege for girls here, including the very air they breathe. So when she's not gagging on his cock and struggling for breath, she's feeling his hand clamped around her neck. Master Mercies also brought in a vacuum cleaner to symbolize the removal of air from her world. Obviously, he did not turn it on inside her mouth, because, well, that would be stupidly dangerous, and we want Alexa to survive for her other treatment sessions...